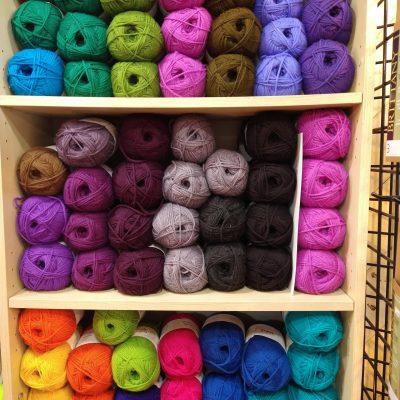 Natural fibers are not all the same. There is a trade-off between softness and durability. That is why it is so important to choose the right fiber for the garment you're making. We're here to help you make the right choice, and offer a wide variety of yarns to choose from. Our lines include basic wools in a variety of colors to stunning yarns with the flash of beads and sequins.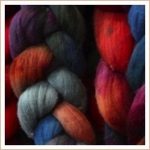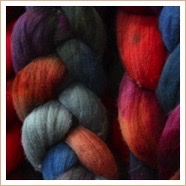 We carry a large selection of processed "ready to spin" fiber and roving including sheep wool.
It's no fun doing a project with tools that just don't work. No matter the task, good tools are essential to getting good results. We stock what we use, and if we're not happy with a tool, we don't expect you will be, either. When we add a new tool, we're looking past the "gimmick" for true innovation. It has to work, work well, and consistently work well. We look for tools you'll use again and again, so your investment for the tool will have a pay-back in both pleasure and efficiency. Tools are an investment in your craft. Invest wisely.
Knitting Needles & Crochet Hooks: * ChiaoGoo Circular Knitting Needles * Brittany Straight and Double Point Knitting Needles * Knitter's Pride Karbonz Double Point Knitting Needles * NEW! Prym Ergonomics Straight and Double Point Knitting Needles * Brittany Crochet Hooks * Denise Interchangable Crochet Hooks * Boy Crochet Hooks
Spinning Wheels & Supplies - We carry the full line of Kromski and Ashford spinning wheels, including extra bobbins, jumbo flyer kits, and Niddy Noddies and accessory parts. We do not sell wheels boxed; we sell them assembled, tested, and ready to spin.
Drop Spindles - If you are curious about spinning but not ready to purchase a big wheel, we stock a selection of various drop spindles.
Notions - Notions are those essential little tools that just make the job easier. We carry a full line of notions including: darning needles; stitch holders; knitting and crochet markers; scissors; gauges; counters; and much more.
Miscellaneous - We carry Eucalan Fiber Wash which is great to use on wearable made with natural fibers.